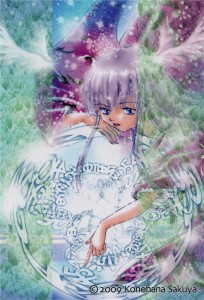 As my last post indicated, there were some really cool events available for Austin-area otaku to plug into this weekend, starting on Thursday with the Austin Anime Meetup Group's Thursday Night Manga meeting and culminating on Sunday with the beginning of the San Antonio Museum of Art's month-long tribute to the genius of Hayao Miyazaki. Well, okay, that last event wasn't in Austin, but San Antonio is only about 1 1/2 hours south on Interstate 35 … so it kind of counts. Right?
So, without further ado, I've compiled some pictures from all the events I went to, along with some descriptions.
Thursday Night Manga Meetup at Mozart's
About 9 people showed up at Mozart's Coffee Roasters next to Lake Austin on Thursday to peruse some manga and talk about things that otaku talk about.
Konohana Sakuya Manga Lecture
Manga couple Kohei Nishino and Tsugumi Nishino, known collectively as Konohana Sakuya, presented a lecture on manga on Saturday, October 7th. This event, sponsored by the Japan-America Society of Greater Austin and the Japanese Consulate in Houston, attracted roughly 40 people of all ages.
In addition to receiving the wonderful postcard image shown at the beginning of this post (which they handed out to attendees of the lecture), I had the honor of joining the Nishino's for coffee and dinner afterwards.
And after dinner and drinks, I drove the Nishinos around to show them the Texas State capital building and the UT bell tower, which was lit with orange lights.
Frederik L. Schodt's Lecture at SAMA
On Sunday, October 8th, anime scholar and author Frederik Schodt helped the San Antonio Museum of Art kick off their month-long celebration of the work of Hayao Miyazaki with his lecture "The Allure of Hayao Miyazaki."
Afterwards, I headed upstairs to the Asian Art Wing to check out SAMA's collection of Japanese art, including their current display of Yoshitoshi's Ukiyo-e.
Overall, it was a great weekend. I made three new friends in Kohei Nishino, Tsugumi Nishino, and Frederik Schodt, not to mention the all the other folks I got to meet at all of the events. Stayed tuned in to AustinOtaku.com, and I'll keep you up-to-date with any events in the future.